here's the scene, you're in Central Park .... its July 5th, 1997 !





You Meet Remmies !

You See Tuatara !

You Meet Scott McCaughey !

You Meet Peter Buck !

You Meet Patti Smith (and her son Jackson)!

You Meet Skerik !

You Meet Barrett Martin !

AND LAST, but certainly not least . . .




YOU MEET MICHAEL STIPE !!!!






no...that was NOT just a dream. that WAS me at Central Park and I have to say that it was probably one of the most exciting days of my life.

Unfortunately, the battery in my camera died after i only took two pics, so the pictures you see here were not taken by me, but by Robin from AOL. When i develop my two, I will put them here if they turned out any good. I am also waiting for some other taken by various assorted catbutters ;)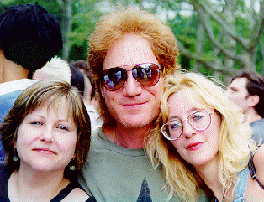 remmies doing what remmies do best :)
| | |
| --- | --- |
| love those shades Peter ! | Skerik....a kewl dood ! |
| | |
| --- | --- |
| skerik and craig..doing their thing | justin in action |
an unexpected visitor

btw: the guy in the foreground is my hubbie
and the kid up front is my daughter

he looks good in a bedspread !
and as if that wasnt enough !!!!!